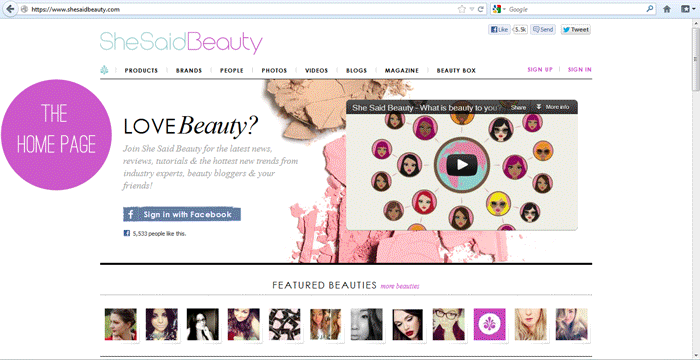 She Said Beauty – The Social Network for Beauty
A couple of weeks ago now I popped down to London to go to the launch of the new She Said Beauty website (it's actually been live for a little while now but it's constantly being updated), I'm sure you've probably all heard of She Said Beauty but if not they're probably most well known for their monthly beauty box.
The website is more of a social networking site for beauty fans – sounds so much more appealing than Facebook doesn't it? (no chavvy ex-classmates clogging up your feed with pics of their 10th child…). Just a whole website dedicated to new beauty products as well as old favourites, and how people all over the world use them. She Said Beauty aims to be the one destination where members can share their passion for beauty. They can research new products, interact with hundreds of like-minded people, read the latest blog posts by beauty bloggers, watch the newest YouTube videos and get great tips from beauty experts worldwide. If you're thinking about buying a new beauty product you can check out the reviews on She Said Beauty and maybe see it in action before you purchase it! There are over 30,000 products from over 1,000 different brands to discover on the website, that's a lot of reviews to read and a lot of new products to add to wish lists…
For beauty bloggers the site is not just a place to go and read about the newest trends in beauty but also a place to share your blog, you can connect all of your social networks to your She Said Beauty profile so that the hundreds of users that use the site daily can easily be sent to your blog/twitter/pinterest etc. – great for redirecting traffic. Members of the site can also read your blog posts on She Said Beauty – you can connect your blog by RSS so that all of your posts automatically get posted onto the site with links back to your blog. You can also tag the products that feature in your posts with the products that are on She Said Beauty, so that when someone does a search for a specific product your blog post will come up in the search results – again, a great way to redirect traffic and gain readers. Reviewing the products is another feature of She Said Beauty, you can leave your opinion on any of the products and help out people that researching future buys – some of the reviews feature on the homepage of She Said Beauty meaning that you'll get even more exposure, the reviews are also a part of the product page so again there is opportunity for gaining new readers there too. There is also opportunity for members of the site to access exclusive discounts and sales, free products and competitions as well as invitations to VIP events – meaning there's the potential to hear about new products first and therefore to get the 'scoop' before anyone else – another great way to gain readership. The Blogs page is also particularly useful to bloggers, this shows all of the new blog posts which have been linked to so there's potential to redirect people to your blog from there too. It's a potential goldmine for page views, and a pretty fun one at that.
At the end of the day, we've all got a common bond in our love for beauty products – She Said Beauty just makes it even easier for us to communicate with each other
You don't have to be a blogger to join though, anyone with an interest in beauty is welcome. The chances are that if you're reading this post you'll enjoy She Said Beauty, definitely worth signing up! It's a great way to find some new bloggers/YouTubers to follow, you might even meet some new friends.
Joining the site is really easy, I've shown just how easy in the GIF above, and it's also completely free. I signed up on Friday and it only took about 5 minutes or so to have my profile completely set up!
If you'd like to join up just visit the website: www.shesaidbeauty.com
If you'd like to follow me, my link is: https://www.shesaidbeauty.com/paperbacks
[Twitter|Facebook|Tumblr|Hello Cotton|Blog Lovin'|She Said Beauty]